RedZinc wins Altice telecoms IoT Challenge in Lisbon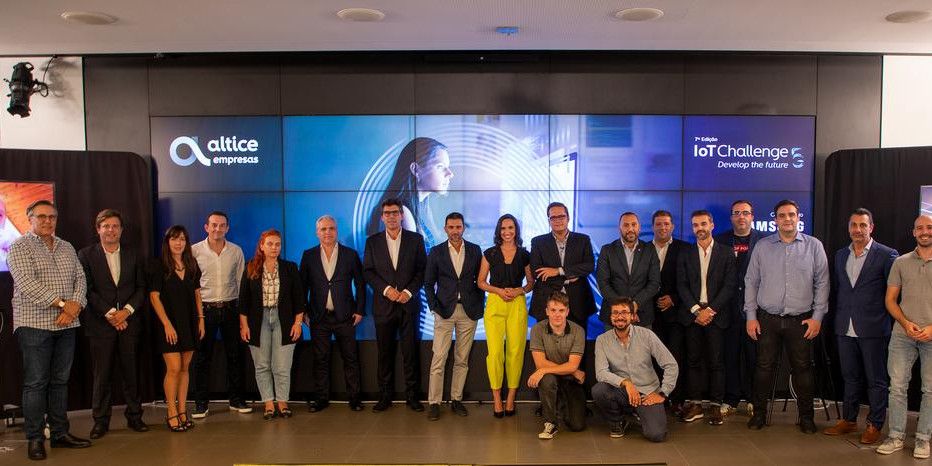 BlueEye Handsfree wearable video recognised for innovation in Altice 5G IoT challenge
Altice IoT Challenge Award
RedZinc has won an award for the best IoT device for 5G networks with BlueEye Handsfree wearable integrated video camera and cloud-based platform. The wearable mobile video platform was selected from a group of very high quality innovative solutions and showcases the importance of eHealth solutions and how they are empowered by 5G networks
The competition was awarded by Altice telecommunications company and customers at the IoT Challenge awards in Lisbon on 12 October 2022. The concept was to present IoT solutions with 5G connectivity, which make it possible to create new business models and use cases, by exploring the higher speed capabilities, massive density and minimal latency of 5G. The solutions had to have IoT SIM cards with 5G connectivity or other connectivity.
Points were awarded for originality and disruptiveness of the product, market readiness of the solution, B2B solution allowing customization of features and brand and attractiveness of the business model.
IoT Innovation
This award recognizes the value and continuous innovation of RedZinc with BlueEye Handsfree and BlueEye Handsfree Classroom products for real-time video transmission in emergencies, healthcare and training applications.
Ricardo Figueiredo, Senior Engineer with RedZinc Services, presented the BlueEye Handsfree wearable video platform – showing the innovative 5G video platform complete with the IoT Connect SIM card. The platform uses 5G technologies of MEC (mobile edge computing) to reduce operational costs (by avoiding expensive data centres), reduce the need for cloud data storage, save transport costs, conserve network bandwidth and reduce network congestion. It also takes advantage of 5G network slicing to prioritise emergency data traffic and increase revenues for operators and their customers by offering SLA-based pricing and tiered performance.
Innovation in healthcare delivery
Pilots have been carried out in innovative settings such as using BlueEye Handsfree wearable camera in Sweden for community nursing, in Norway for medical training in tutorials and in Finland for Urban Search and Rescue purposes. This wearable video can be used in healthcare or industrial settings where remote visual information is required to get accurate support and diagnosis from experts in different locations.
RedZinc are looking forward to working with Altice to bring BlueEye award-winning solution to the Portuguese market and beyond.
You can read about the awards in Portuguese here:
https://blog.altice-empresas.pt/5g-acelerar-portugal-salvar-vidas-com-227427
https://tek.sapo.pt/noticias/negocios/artigos/iot-challenge-2022-premiou-projetos-que-fazem-uso-da-conetividade-5g
https://executivedigest.sapo.pt/altice-desafiou-empresas-a-explorar-conectividade-5g-e-ja-ha-vencedores-do-concurso/