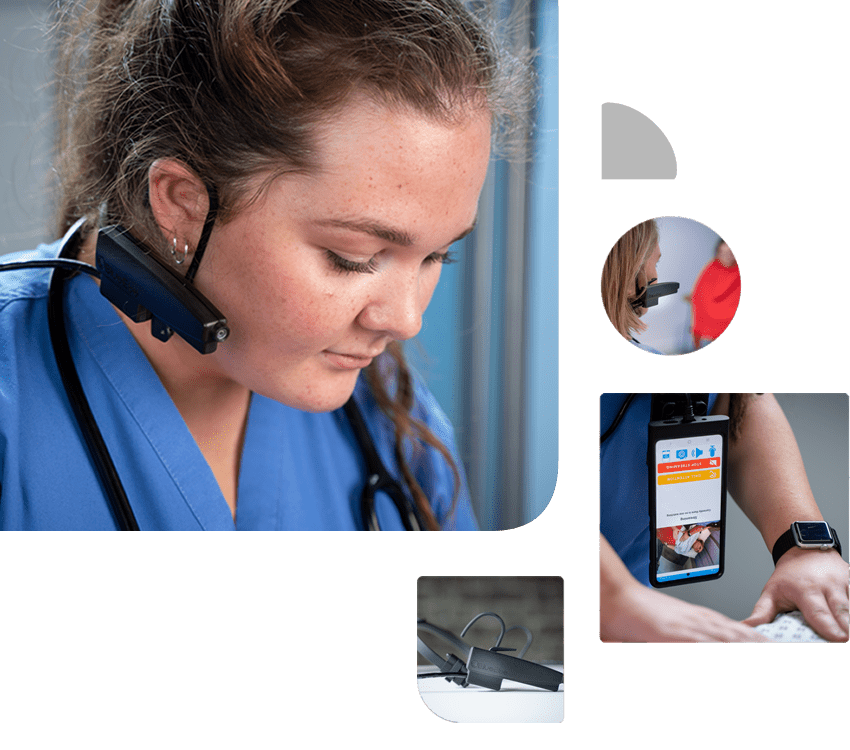 BLUEEYE HANDSFREE
Wearable Video for remote video consultation
BlueEye Handsfree is a wearable, mobile, point-of-view, cloud-based Video Service Delivery Platform.
BlueEye Handsfree Video platform facilitates remote training, consultation or expert advice via point of view live video with the help of a wearable camera and a secure web portal.
What is BlueEye Handsfree?
The customisable real-time video solution has three components:
A wearable headset with an integrated High-definition camera for capturing live video

A smartphone for mobile connection

A secure web portal for live video streaming and remote access.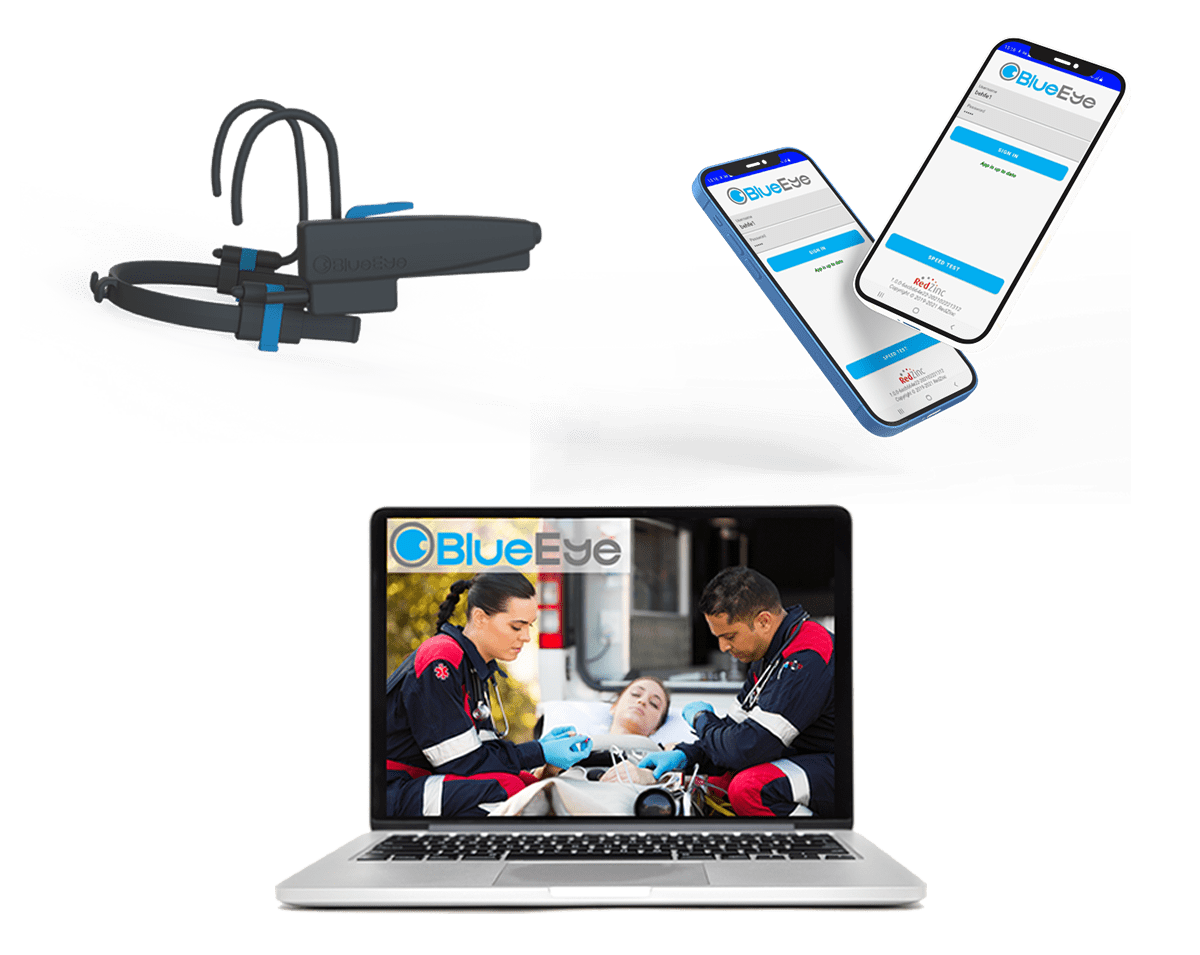 Key Features of BlueEye Handsfree
The camera headset user connects the headset with the smartphone and wears the headset near their temple.
The user then starts live video streaming with the help of BlueEye app in the smartphone.
The remote audience logs in to the BlueEye hot desk to access the live video.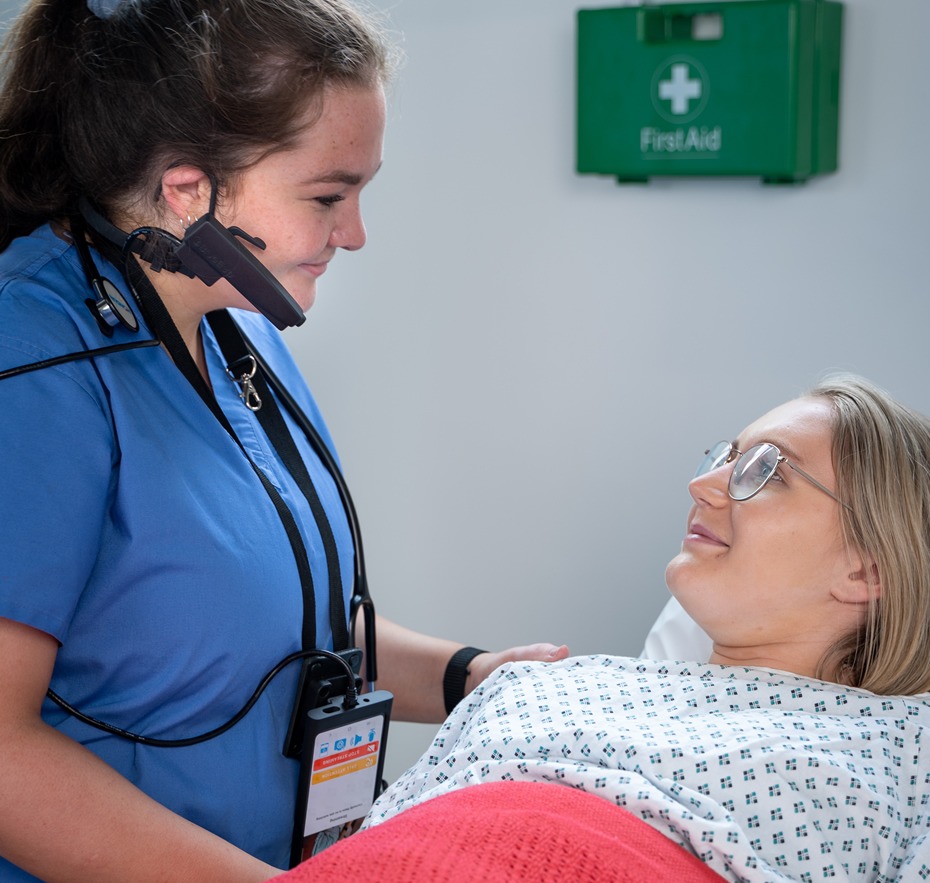 Key Outcomes
Enables transmission of point-of-view video without impacting the vision of camera headset user

Eliminates the need for travel, resulting in savings on cost and time

Improves convenience for the participants

Facilitates instant remote assistance or expert advice

Mitigates the challenges associated with the congregation of many participants in one place
"The Innovative Handsfree Solution providees a headset link to ambulance staff who can connect to an advising consultant on the patients care"
"This is revolutionary, a wonderful tool. Facilitates a quick reaction. We can interact as if we were next to each other"
"Paramedic video from the field is the most technically challenging of telemedicine scenarios. When the spandemic arrived RedZinc were well equipped to pivot their solution for contagion avoidance scenarios for doctors and nurses on wards as well as outpatient clinics"
"We were able to communicate with and see our patients in various units across the city and allowed us to have a realistic interaction with them"
Secure Data
BlueEye solutions comply with the GDPR and Data Protections regulations. All BlueEye video calls are AES-256 encrypted. BlueEye uses TLS 1.2 and TLS 1.3 and is always updated with secure cyphers only.
RedZinc is committed to perform regular Penetration Testing to provide fully secure solutions.

Frequently Asked Questions
How long does it take to set up a BlueEye Handsfree account?
Red Zinc
2021-09-01T16:16:11+00:00
The BlueEye Handsfree account can be set up within 2 working days. While the BlueEye web application & BlueEye app login credentials are shared over an email, the camera headset, smartphone and accessories are shipped via third party courier services. The normal delivery time is up to 5 working days in Europe and up to 10 working days outside Europe.