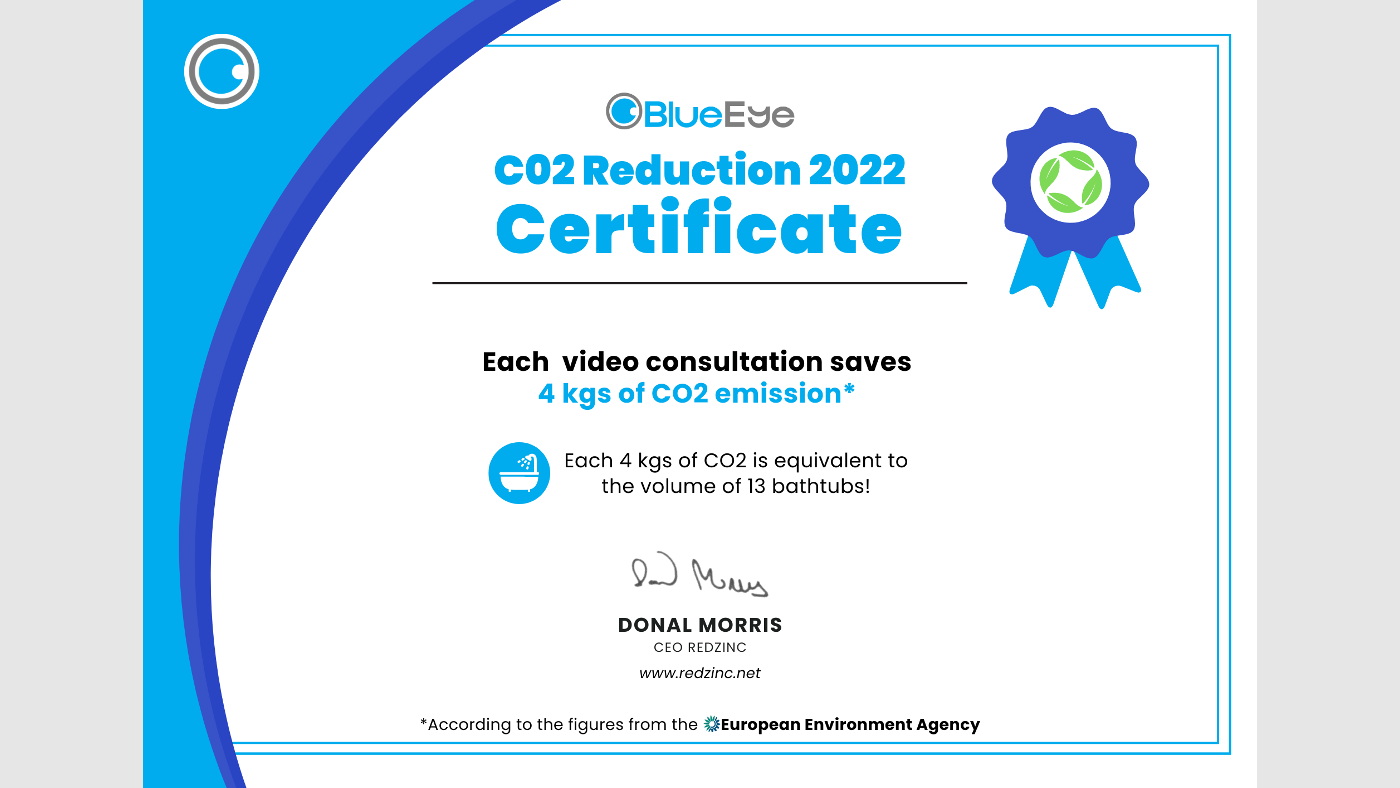 Telemedicine can reduce the carbon footprint of healthcare, mainly through reducing patient travel and doctor travel for consultations. Research shows that each doctor-patient video consultation in place of face-to-face consultation saves an average 4 kgs of CO2 emission, which is equivalent to the volume of 13 bathtubs!
Healthcare providers have an opportunity to use telemedicine to save significant amounts of CO2 emission by replacing face-to-face consultations with video consultations when possible.
About the BlueEye Sustainability Award
As a supplier of telemedicine software BlueEye Clinic, RedZinc is interested in supporting the healthcare industry in reducing its carbon footprint. We have launched the BlueEye Sustainability Award to acknowledge and recognise the contribution of healthcare providers in reducing CO2 emissions by doing more and more of video consultations.
In order to encourage our users, the BlueEye team identifies the top carbon savers for the last year, based on the number of video consultations completed using BlueEye Clinic.
Prize
The winners are presented with a CO2 reduction certificate and a bottle of organic wine as a recognition of their contribution to sustainability. As part of the award the winners are photographed for celebrating on social media. The winners are invited to our online webinar on sustainability related to the use of Telehealth for sustainability in healthcare.
Participation
You can also contribute to the efforts to reduce CO2 emissions in healthcare simply by using BlueEye Clinic video consultations to replace face-to-face consultations where possible.
There is no minimum eligibility for the reward. All you need is BlueEye Clinic account and patients to engage in video consultations.
Nominate a colleague
You can nominate a colleague to participate in this challenge by tagging them in a social media post using #BlueEyeSustainabilityProgram.
Get involved
Contact BlueEye team at info@redzinc.net if you want to get involved in BlueEye Sustainability Program.
Will you or a colleague be one of the next top BlueEye sustainability award winners?