RedZinc demonstrates Mobile Wearable Video Telemedicine as part of HSE National Digital Innovation Conference
Eammonn Ryan speaking at the conference on digitalisation and the environment
Digital Health will be a critical component of the HSE and Irish government's plan to advance the public health service. This was one of the key messages from an incredible line up of speakers such as Eamonn Ryan, Minister for the Environment, Climate and Communications and Dr Orlaith Quinn, Dept of Enterprise, Trade and Employment at the HSE National Digital Health Innovation Conference 2022 in Tullamore on Friday 25thMarch 2022.
The Conference promoter and host, Prof Martin Curley, Director Digital Transformation HSE, has a vision that HSE is going to leap forward by 10X growth to become a European Digital Health Leader. Prof Curley spearheaded an amazing line up of speakers and themes for the event. He has a clear vision of Stay Left Shift Left as his focus for the coming years with an aim to provide highest quality of life to all at the highest possible cost avoidance. Stay Left Shift Left means preventive and proactive healthcare with a principle of caring for people preventatively, caring for people in their own homes, caring for people in the community.
The three key aspects of the Stay Left Shift Left policy include
Quality of life
Quality of care
Clinical experience
This means a more positive outlook on health and taking the pressure off the healthcare system in a multi-disciplined approach. It means open innovation of new technologies and trialling with clinicians and healthcare teams on board the Open Innovation 2.0 train. Irish MedTech companies are enthusiastically supporting this vision as witnessed by the 10X showcase of stands and presentations from telemedicine, robotic cleaning, healthcare apps as well as many presentations from innovating hospitals.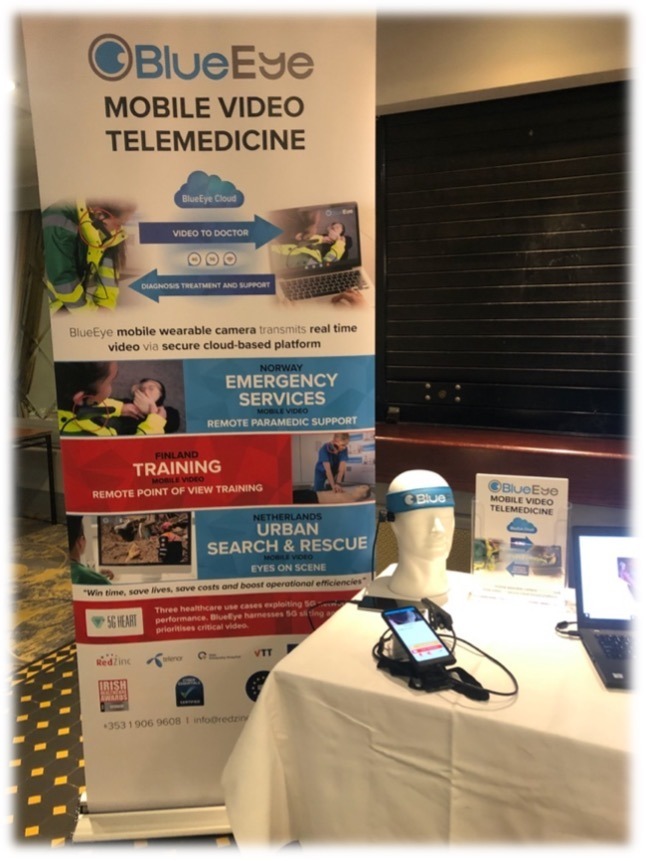 RedZinc displays BlueEye Wearable Video Platform at the conference
The idea is to involve all of Ireland in a 10X 'Let's Do It' approach with the help of digitalisation and the many new technologies being developed in Ireland to help with this remarkable task.
Prof Curley, "According to the OECD, Ireland is now fourth in Europe for Teleconsultations". Video telemedicine is here to stay.
This is a very exciting time to be part of the HSE innovation ecosystem and we are proud and excited to be part of it!