Imagine a situation where a junior paramedic needs to attend to a patient whose health is deteriorating quickly. In such a case, every second is of the essence and remote assistance to the paramedic from an experienced medical professional becomes crucial.
RedZinc tested its innovative wearable video solution, BlueEye Handsfree, with Groningen Ambulance Service, Netherlands in an emergency scenario where a patient is injured after an explosion. The paramedics arrive at the scene to find the patient has difficulty breathing. In this crisis, the paramedic needs to consult the Groningen Chief Medical Officer (CMO), remote from the emergency.
With BlueEye Handsfree wearable mobile camera;
the paramedic sends an alert to the remote CMO
the CMO logs into a secure web browser
the paramedic sends real-time video to the CMO web browser using BlueEye headset with integrated high-definition video camera
the CMO sees the patient from the paramedic's point of view
the CMO assesses the patient optimally using the visual and audio transmission
The CMO assesses the patient's deteriorating condition and decides it is necessary to examine the patient using ultrasound. The inexperienced paramedic is guided by the remote CMO. Using BlueEye Handsfree wearable camera headset, the paramedic sends live video of him performing ultrasound on the patient. The remote CMO views the real-time video of the paramedic performing ultrasound as well as the live ultrasound video.
This way the paramedic is supported with the ultrasound and the patient's condition is remotely assessed by analysing the ultrasound video.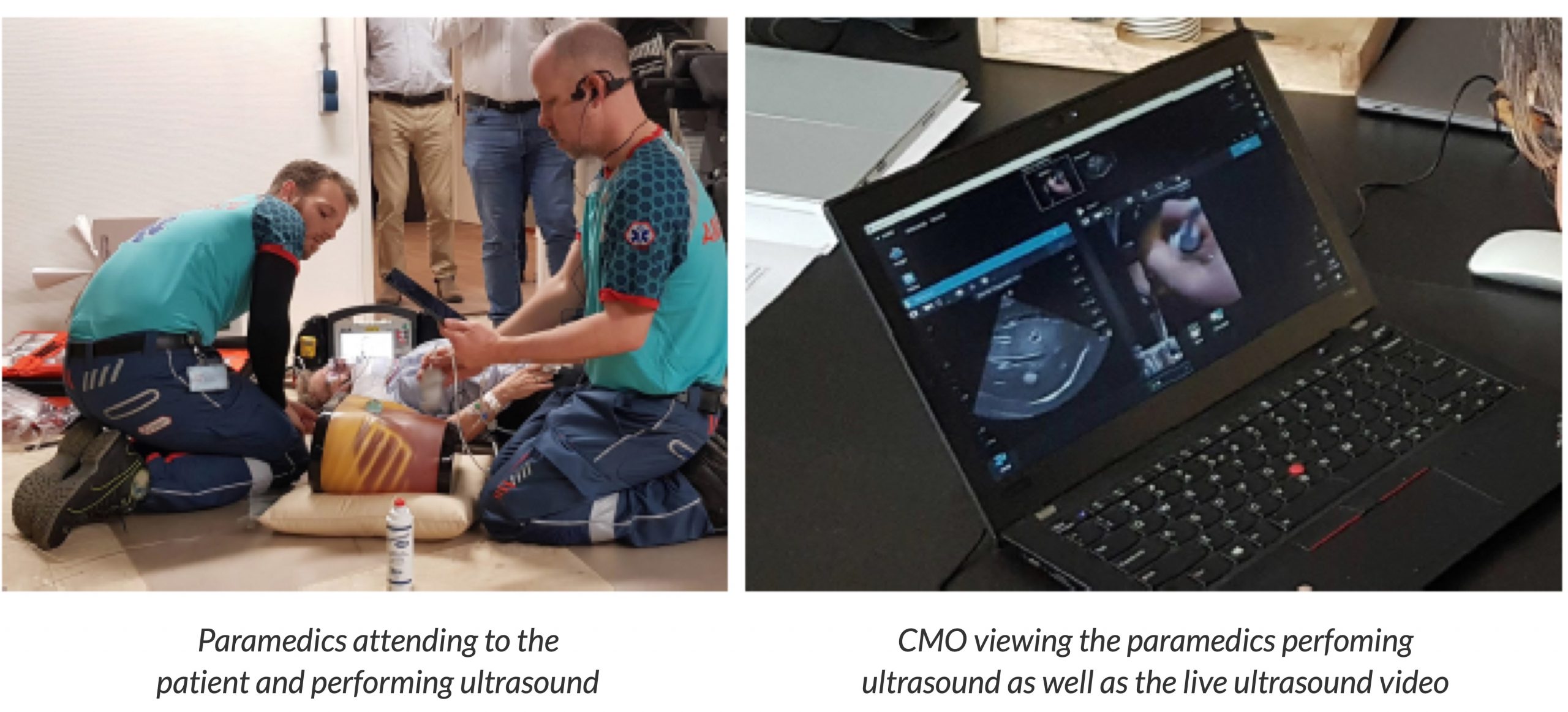 This results in delivery of high-quality emergency care enhancing patient outcome and improving efficacy for the Chief Medical Officer.
This pilot was carried out as part of the EU wide 5GHeart project. This project focuses on 5G network trials of innovative vertical use-cases in healthcare, transport and aquaculture.
Some of the key outcomes of the pilot are:
1. The inexperienced paramedic is supported by the remote Chief Medical Officer
2. The remote CMO can see and assess the patient from the paramedic's point of view
3. One-way video and two-way audio ensures optimum efficacy of medical treatment and support to the paramedic
4. The instantaneous real-time video transmission enables immediate assessment and treatment of the patient in an emergency
RedZinc is currently offering healthcare professionals a 2-week free trial of BlueEye Handsfree with full support and no subscription commitment. Click here to learn more about BlueEye Handsfree and to register for the limited offer of a free trial.