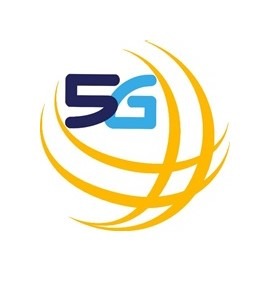 DUBLIN – March 2019
RedZinc has been successfully nominated to carry out innovative scale testing in eHealth video streaming on the 5GinFIRE testbed. RedZinc was chosen because mission-critical applications such as eHealth, need to be deployed on a proven quality 5G network.  RedZinc will use the 5G testbed to simulate large scale 5G network scenarios of hospitals and ambulance services with a large number of users. The idea is to ensure network quality will be available in future virtualised 5G networks.
RedZinc will deploy a network slice for eHealth on 5GINFIRE and carry out basic testing, stress testing, prioritization and VNF performance measurements. RedZinc will test the performance of video streaming functions of security, application stack, group video and QoS functions in a scaled VNF (Virtual Network Function) software environment for thousands of video minutes from thousands of emergency events per day.
The 5GinFIRE project seeks to build and operate an open and extensible 5G NFV-based Reference (Open5G-NFV) testbed connected to an ecosystem of vertical industry applications. A total of 6 out of 33 proposals were offered funding in the second call for experiments on the 5GinFIRE testbed, of which RedZinc was one.
RedZinc has built a cloud managed service of video streaming, BlueEye, for remote hospital emergencies and scenarios. Moreover, RedZinc is building a 5G eHealth slice to enable emergency video streaming from a remote emergency to a hospital doctor, using its 4G/5G compatible wearable video camera.
The e-Health experimental infrastructure used in 5GinFIRE is located in Poznan Supercomputing and Networking Center and consists of cutting-edge equipment enabling implementation and testing of e-Health cloud applications, products, or services. RedZinc will test in hospitals using testbeds in Poznan in Poland, Madrid in Spain and Bristol in UK. The testing will verify the potential number of required emergency video calls, a large city to a satisfactory quality level.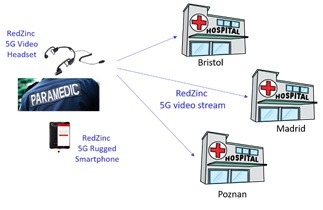 "Using a 5G radio testbed in University of Bristol, a medical simulation centre in Poznan and Telefonica's 5TONIC testbed in Madrid, we will showcase the simulated tests results to doctors in each city. Local hospitals in Bristol, Madrid and Poznan will ultimately benefit through resulting faster diagnostics and decision making." – Donal Morris  CEO of RedZinc
The pan-European project 5GinFIRE, is coordinated by Eurescom, leading European provider of project management services, and RedZinc believes it will benefit from a societally valuable use case in healthcare and feedback from scale testing. This is the first time that pan-European hospitals will have access to high quality video streamed across 4G/5G public network. Read more about the RedZinc video streaming capabilities here.
About RedZinc: RedZinc empowers first responders, healthcare, tele-maintenance and other personnel to stream video to an expert or backup in a command centre using wearable video enabled for 4G telecommunications. Read more about RedZinc.