Junior Doctor Support
Often times, the (junior) doctors need support and advice from medical experts or specialised doctors for patient treatment or care.
For example, In a ward round, a doctor or a team of doctors visits multiple patients in the ward to review their health condition, their prescription charts and observation charts. Based on this information, subsequent plans are laid out for each patient.
BlueEye Handsfree facilitates greater input into the patient care by connecting the remote medical experts with the doctors via real-time video. Particularly, the junior doctors can benefit from the expertise of the remote medical experts and ensure that the optimum plans are laid out for the patients resulting in better patient outcomes.
Key Features
Lightweight, ergonomic and portable camera headset for mobile video

One-way video from the doctor on the ward round to the remote medical experts

Point-of-view video for remote medical experts

Two-way audio between the doctor and the medical experts for interactive sessions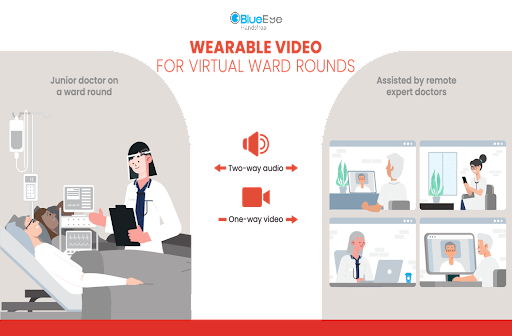 Key Benefits
Accelerates diagnosis and treatment

Point of view video enables the medical experts to see the patients through the doctor's eyes

Facilitates treat at scene, avoiding unnecessary conveyance

Saves multiple costs leading to Improved hospital operational efficiency

Mitigates contagion risk for the remote medical experts

Leads to improved patient outcome